My Certifications
Adult CPR and Automatic Defibrillator
Ability to assist those that may have impaired breathing.
ISSA Fitness for Women
Ability to understand and assess fitness criteria for women ages 20 to 60.
Lifestyle Fitness Coaching
A rich understanding of evidence-based coaching and systematic processes to guide, support, and motivate clients to achieve positive behavioral change and long-term healthy lifestyles and practices.
Certified Nutritional Leader
Completed 8 week course with Dr. Josh Axe in nutrition. Able to assist with nutritional assessment, meal planning, and overall nutritional coaching.
Core Assessment & Training
Ability to assess the core and create comprehensive training plans to strengthen it.
Sit & Be Fit
Certified in the design and implementation of programming for seniors and people with physical limitations.
ISSA Specialist Exercise Therapy - *
Despite all of our best efforts, injuries happen. When they do occur, you will need someone to assess your ability to train and adapt your training protocol to keep you safe. By utilizing techniques and exercises learned, I will be able to help with rehabilitation from various injuries that occurred from training or any accident.
* Please note this is NOT rehabilitation NOR physical therapy.
ISSA Specialist Fitness Nutrition - *
There is so much information on nutrition available today. I understand how nutrition impacts performance and how it can be turned from a hindrance to a tool that drives amazing outcomes! By having the knowledge and understanding of how nutrition works with the body, we can evaluate the effects of the plethora of diet options that exist or are being created constantly to figure out which one might be best for you!
* I am NOT a nutritionist.
ISSA Certified Fitness Specialist
ISSA Certified Transformation Specialist
As a Transformation Specialist I'm armed with the skills and techniques required to truly coach and influence behavioral patterns as they relate to your physical, mental and emotional well-being. You will see better results faster, and have an easier time with the transition to the behaviors and activities I suggest.
ISSA Specialist in Senior Fitness
Modern science has given us the ability to slow and even reverse the negative effects of aging. And study after study has shown that seniors are not only capable of real exercise, but can vastly improve their health, strength, mobility, and independence through exercise. As a certified specialist in senior fitness, I can help you set realistic goals for your health, and then enjoy achieving and exceeding them.
ISSA Lifespan Coach Certification
ISSA Elite Trainer
The ISSA Elite Trainer credential is awarded to accomplished ISSA Certified Trainers who have proven their competence in personal training and developed expertise in two additional areas of specialization. With scientific backing and practical application in the areas clients need help with the most, this credential proves that extensive education equals results.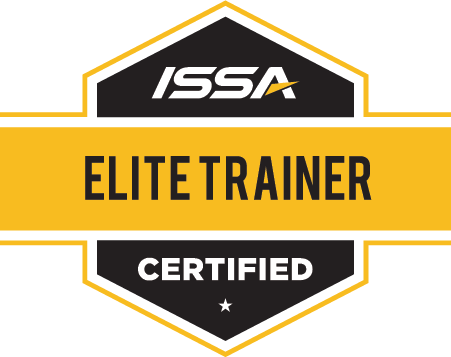 ISSA Certified Fitness Trainer
It's no secret - fitness training has been proven to prevent disease, strengthen your health and improve your confidence and outlook on life. As an ISSA student working toward my certification to be a trainer, I'm learning about everything from muscle mechanics to flexibility and cardiovascular dynamics. So if you want to live a stronger and more confident life, I will soon have the training and the expertise to help you every step of the way.
ISSA Specialist in Fitness Nutrition
Whether you want to gain muscle, lose fat, or live healthily, your limiting factor usually lies beyond exercise. Poor nutrition is what holds people back. As an ISSA student working toward my certification in this area, I will soon be able to help you dispel the common myths about nutrition, and then work with you to design a "real world" nutrition plan that you can actually stick with and enjoy.
ISSA Specialist in Exercise Therapy
All too often, people suffering from debilitating medical conditions are inclined to think that fitness doesn't apply to them. In reality, fitness is even more vitally important to those who are recovering from medical care. As an ISSA student working toward my certification in exercise therapy, I will soon be able to help you design a fitness program that works around your condition, giving you a healthier and brighter future to look forward to.